Founded in 1995, ESA Logistics has become one of the leading Third-Party Logistics (3PL) providers in Asia with over 20 years of experience and 6 branch offices in mainland China. With over 380,000 sq. ft. of storage space and a comprehensive fleet of trucks, ESA is the expert you can count on in international freight forwarding, warehousing, cross border trucking, retail distribution and delivery, NVOCC consolidation, custom and brokerage service, husbandry agents and crew change, as well as precision equipment relocation.
The partner you can trust
Founded in Hong Kong since 1995, ESA Logistics (HK) Co., Ltd. is committed to striving for service excellence to help our customers and partners grow their businesses over the long term. We see our customers as close and trustworthy partners. The reason is simple, we know that your success will empower ours.
In tracing our roots, ESA Logistics started off with the provision of containerised shipping services between China and the Asia Pacific Region. Today, the company has developed and expanded into one of the region's leading freight forwarders specialising in container movements and combined transport worldwide.
With a state-of-the-art modern warehouse facility in operation since 2014, along with a complete fleet of container and special purpose trucks, ESA Logistics has raised the bar to become a competitive Third-Party Logistics (3PL) provider well recognised within the industry.
A large part of our fast-paced growth over the last two decades was fuelled by our professional expertise and institutional knowledge of the mainland China market, in which ESA Logistics operates branch offices in major ports, such as Shanghai, Ningbo, Qingdao, Shantou and Shenzhen.
Today, ESA Logistics is a licensed ocean freight forwarder in China offering NVOCC ocean services as well as a holder of Grade One Forwarding Agent Licence issued by the Chinese government.
At ESA Logistics, our longstanding expertise has earned us a wealth of recognition and praise from all facets of the industry.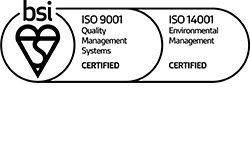 ISO 9001:2015 – Quality Management System
ISO 14001:2015 – Environmental Protection Management System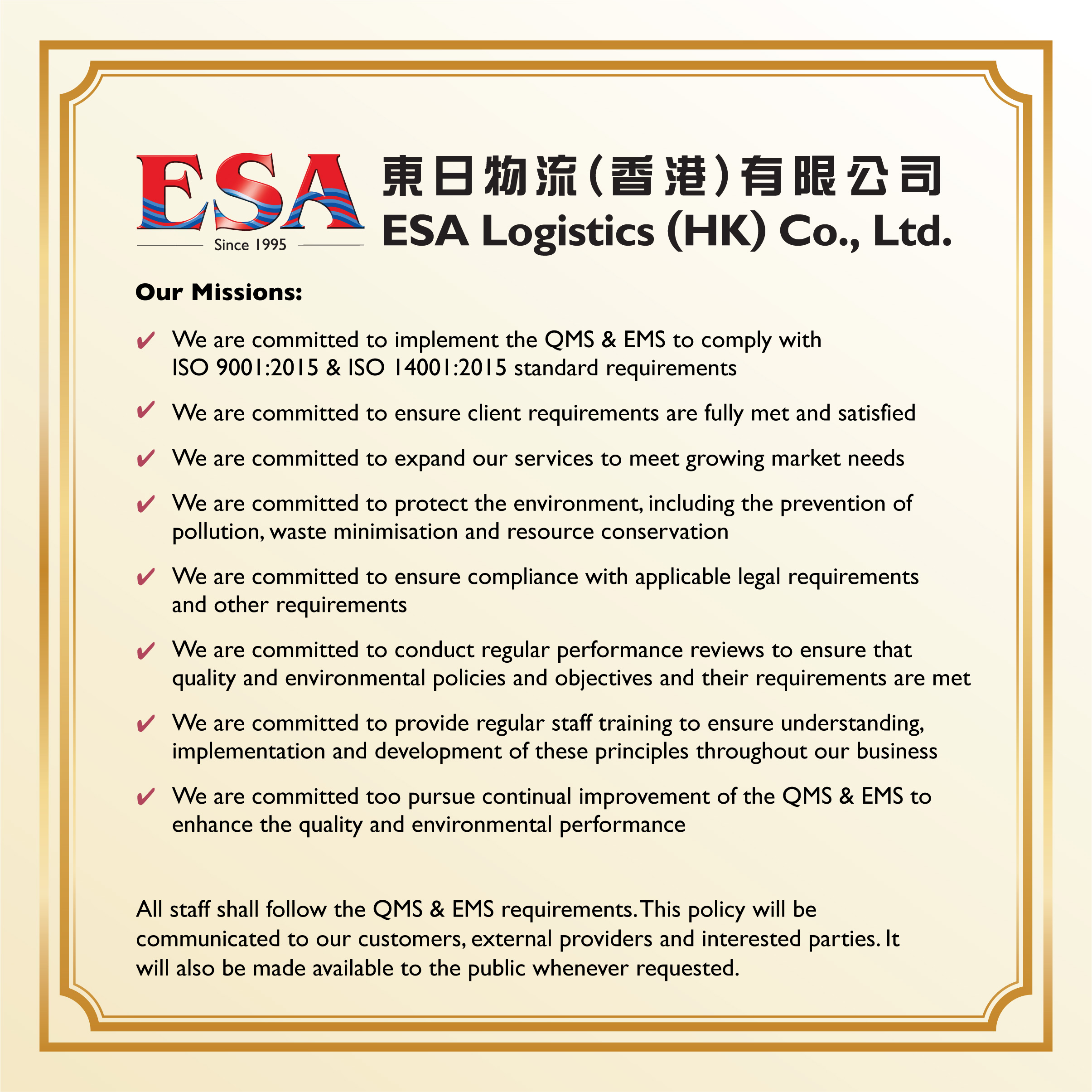 Caring Company Award
ESA Logistics has been awarded the title of "2016/2017 Caring Company" by the Hong Kong Council of Social Service. Launched by the Hong Kong Council of Social Service in 2002, the Caring Company Award is given annually to organisations in Hong Kong in recognition of their corporate citizenship efforts to care for the wider community, their employees and the environment.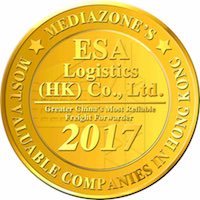 MEDIAZONE'S Hong Kong's Most Valuable Companies
ESA Logistics was named Hong Kong's Most Valuable Companies by the MEDIAZONE in 2017 in recognition of its service quality and industry presence.
Founded in 1995, ESA Logistics (HK) Co., Ltd has come of age with a diversified range of services that has made it a household name in freight forwarding in the mainland China and Asian markets.
As a trusted partner in 3PL services, we are eager to grow together with you, because your success is our success.
Click on the icons below to find out more about our strengths and offerings.

Sea & Air Int'l
Freight Forwarder

NVOCC Consolidation Courier

Warehousing / Temperature controlled Storage

Sea & Air int'l Freight Forwarder
Our comprehensive service coverage ensures a high level of flexibility to meet your specific requirements. We guarantee timely and cost-effective handling of your shipments so you can focus on developing your business. ESA Logistics will coordinate your transportation movements in ways that can save you time and money.
Individual consignments can ultimately be moved as independent shipments, eliminating unnecessary expenses while giving you more control. Supported by a worldwide network of partners and agents, ESA Logistics looks after the entire process of transportation. We will also work closely with your vendors and consignees, keeping you posted on shipment status.
We are an official member of HACTL and HAFFA and enjoy close business relationships with major airlines to offer competitive rates for both shipment import/export from or into Hong Kong and mainland China.

NVOCC Consolidation Courier
ESA Logistics offers top-notch solutions for consolidation, less than container load and full container load methods for cargo transportation. We offer FCL and LCL departures from major ports worldwide, ensuring your supply chain needs are met at both a regional and global level.

Warehousing / Temperature controlled Storage
It is our philosophy to seamlessly integrate warehousing, transportation, and value-added services to ensure a tailor made solution that meets your needs. All our warehousing facilities share common processes and management systems to ensure that the highest standards are being upheld.
Our warehousing division has amassed storage space totalling over 380,000 square feet with dedicated temperature-controlled sections. Our warehouses are equipped with automatic sprinkler systems, 24×7 security and CCTV surveillance to ensure your goods are always in good hands.

Local & Cross Border Trucking

Special / Bulk / Project Cargo Management

Door Delivery /
Distribution Service

Local & Cross Border Trucking
In order to deliver transportation services at the right quality level our customers have come to expect, we are constantly revamping our fleet of container trucks and other goods vechicles. Supported by our modern truck fleet, we are able to transport heavy lifts and heavy load to all possible destinations in Hong Kong and mainland China.

Special / Bulk / Project Cargo Management
At ESA Logistics, we have the right team of people to manage complex transportation of large projects with the right equipment and a vast amount of experience. We are committed to sourcing viable options, anticipating potential technical issue and reacting to special circumstances with proper actions for our customers. Whatever your heavy lift needs are, we will be able to arrange for customised transportation concepts for the entire route on a door-to-door basis.

Door Delivery / Distribution Service
A specialised team has been set up to look after the needs of daily goods distribution or fulfilment for our customers with multiple retail locations. Our fully computerised delivery forecast, monitoring and reporting systems give our customers the upper hand and the visibility necessary to manage their business operations in a more efficient way.


Customs & Brokerage Service


Value Added Services
In completing our service offerings, our wide range of value-added services, such as barcode reading, pick & pack, palletizing, packaging & re-packing, quality inspection are offered at competitive prices.

Customs & Brokerage Service
We offer customs declaration and cargo insurance services to smoothen the process as your freight is being moved across borders, while protecting your cargoes against physical loss or damage during transit. Our dedicated professionals with expert knowledge in insurance and trade regulations at multiple levels would ensure hassles are taken out of the equation.

Husbandry Agents
Our crew change and husbandry services range from the due arrangements for inbound and outbound vessels to the comprehensive attendance of vessels during their arrivals in port. We specialise in all types of container vessels proceedings in Hong Kong.